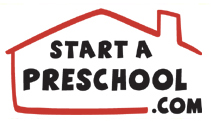 One of the biggest reasons that I am excited for K to start school in the fall is because he will have a lot more structure than I tend to give him, as well as peer interaction. I am always amazed at the growth he makes when he is around kids his age…growth that I can't teach him!
One of the downfalls of being a stay at home mom is the limited income…we get by all right and this is definitely the life I chose, but it limits what I will enroll my children in, or how much money we spend. For some moms in similar circumstances, the answer to this quandary might be to start their own preschool.
If you would like to start your own preschool, Joy at Start a Preschool knows just how to do that. She was able to increase her income, and work much less than a day care would require, and she is willing to share her secrets. You can go to
Start a Preschool
to request a free CD, where you will learn:
How to start a preschool and earn an income

How to teach preschool without a degree

Strategies to fill up your preschool with cute little kids

Etc.
Even if you are not interested in starting a preschool for profit, you can learn how to implement a preschool with your own kids, provide more structure, and even work with other moms to give your kids peer interaction. I also look forward to implementing what I learn with C because even at 2 years old, I think he could benefit from the preschool curriculum.
Click the link below to learn more:
http://www.startapreschool.com/blog/mealsdealsandsqueals
Disclaimer: I was not compensated monetarily for this post. All of the statements in this post are my own opinion. In exchange for this post, Start a Preschool has agreed to provide me with products free of charge.